Vietnamese food is a combination from various cultures. Every region has also its special culture of cuisine. It's very easy for tourists to find Vietnamese cuisine in a traditional open-air market. Here most of patrons of food stalls are women. Their secret of delicious food passed from mother to daughter for generations.
Those are 10 greatest dishes to introduce Vietnam' street food.
Pho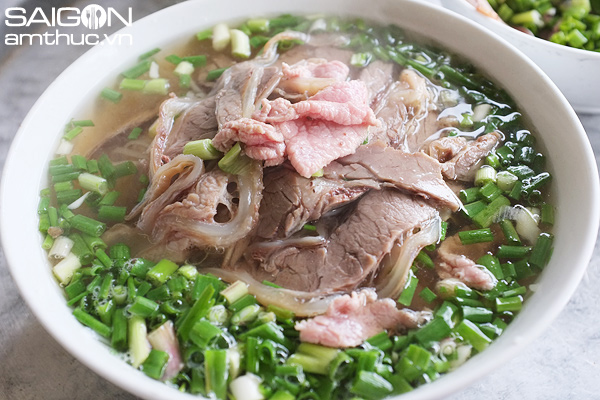 Pho is one of famous dishes of Vietnam, as a symbol to talk to Vietnamese food. It's almost impossible to walk a block in Vietnam's major cities without going into a pho stall or a restaurant.
This simple staple consisting of a broth which is made from bone of cow, fresh rice noodles, some slices of onion, plus a little of green herbs, pepper and chicken or beef,.. that's enough for you to try once.
It's cheap, tasty, and widely available at all hours.
Xoi
Sticky rice is one of accompaniments to meals in Vietnam. You can mix slices of chicken, pork and egg with the sticky rice or eat with sugar and coconut milk. It's very great to enjoy the fat taste of coconut milk and slightly sweet taste of sticky rice.
Banh xeo (Vietnamese pancake)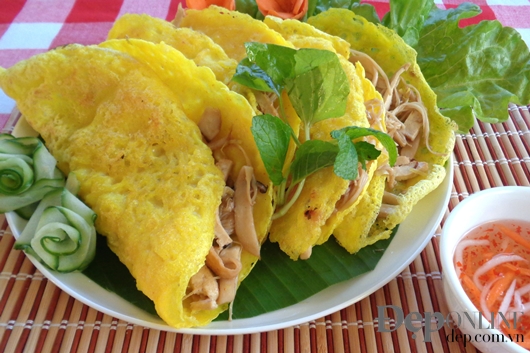 A good pancake is a crispy crepe bulging with pork, shrimp, and bean sprouts, plus the garnish of fresh herbs that are characteristic of Vietnamese dishes.
To enjoy one like a local, you should cut it into small slices, roll it up in lettuce leaves and dunk it in  special sauce – fish sauce which taste sweet, sour and salty.
Goi cuon
These fresh spring rolls are a wholesome choice when you've enjoyed too much of fried foods in Vietnam.
They are neatly rolled in the rice paper which is packed with salad greens, a slice of meat and shrimp, plus a layer of coriander and then dunked in a Vietnam' special sauce.
Bun bo Nam Bo
This bowl of vermicelli noodles, sans broth combined with slices of beef mingle, crunchy peanuts and beansprouts are flavored with fresh herbs, crisp dried shallots, and a splash of fish sauce and fiery chili pepper.
Bun cha Ha Noi
Even though Pho is a symbol of Vietnamese cuisine, Bun cha is a top choice when you have a lunchtime in the capital.
You should eat Bun cha with Nem cua be (similar to the spring roll of crab).
Cao lau
It comes from Hoi An. This pork noodle dish is a bit like the various cultures.
The thicker noodles are similar to Japanese udon, the crispy won-ton crackers and pork is mixed with Chinese style while the broth and herbs are Vietnamese.
Banh mi
The French brought bread into Vietnam, but Vietnamese people added ingredients inside with cheese, sauces, fried egg, chili sauce, etc.
Bot chien
That's one of favourite snacks in Ho Chi Minh city, popular with both the afterschool and the after-midnight crowd.
Bot chien are fried until crispy and then plus an broken egg. It's served with slices of papaya, added with pickled chili sauce and rice vinegar.
Ca phe trung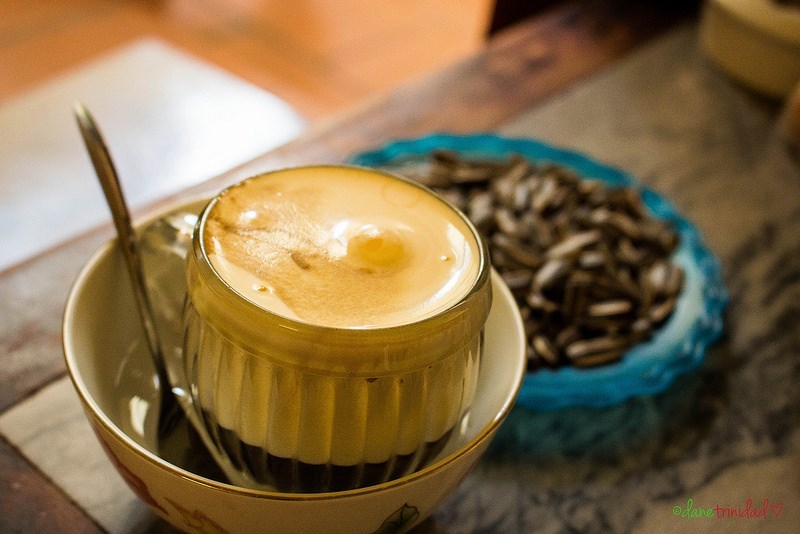 That's a Vietnamese original drink, it comes from Ha Noi. You can enjoy it as a dessert.
Let's try once when it's still hot, you'll see a slightly fat taste and flavor of egg, but not stinking.
 In Ha Noi, you can try it on Nguyen Huu Huan or Yen Phu street.
Total Views: 2398 ,