If you used to travel to Laos, you'll see a pleasant of change of this country, differ from Thailand or Vietnam. You would be surprised and attracted by stunning scenery, from limestone mountains to dense forests and spectacular waterfalls of this small Southeast Asian country. It's a great place for travelers who prefers the adventure and exploring.
Ancient city Luang Prabang is a popular place to visit, where was as a royal capital, centre of the Kingdoms of Laos. Loacted at the confluence of the Mekong and Nam Khan rivers, this place contains many Buddist temples, pagodas. There are waterfalls nearby, some of which offers an interesting service of riding elephant.
Vientiane Capital is on Mekong River. This place was a French colony for a long time, so travellers can see the French influence on architecture constructions in Laos. Here vistors are attracted by a Buddhist stupa, Pha That Luang, where is a symbol of Laotian tourism and is believed to contain relics of Buddha. It's also a good place to buy silk.
Vang Vieng is a city of tourism, far from Vientiane around 4 hours of driving. It's located on Nam Song river, very popular to backpackers who would like a relaxed atmosphere while they are hiking on hills and exploring caves.
Luang Namtha is a big city in the northwest of Laos. It's a popular destination to backpackers. From here, you can go treking into the hills to visi ethnic hill.
Plain of Jars in Phonsavan is an interesting site to explore the jars by stone.
Kong Lo Cave is in Phu Hin Bun National Park where you can visit that colorful cave by boat.
Bokeo Nature Reserve is house of the black-cheeked gibbon which is almost extinct. Visiting the reserve will be not complete if you don't stay at the Gibbon, an eco – tourism conservation projet.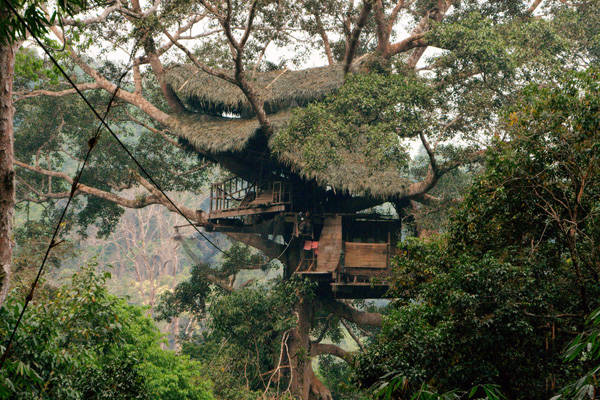 Guests stay in tree houses and travel by zip line through the forests. Besides, the Gibbon Experience also works to rehabilitate and return to the wild animals that were captured by poachers. With mountains ranging from 1,600 to almost 5,000 feet in altitude, the reserve also is a good place to watch birds.
Total Views: 1697 ,